The mobile application "Víš, co jíš" also for iOS
Published: 6 August 2019
Currently, the Food Safety Department, Ministry of Agriculture of the Czech Republic has launched the mobile application called "Víš, co jíš?" for the iOS. Previously, it has been launched for the smartphones that operates in the Android system version 2.3.3 (Gingerbread) and other later versions. Nowadays, this application is also available for free for iPhone users.
The mobile application "Víš, co jíš?" contains three parts (modules), namely: Nutrition in general, E-numbers and the Food Safety Dictionary.
Nutrition in general
The first module called "Nutrition in general" is practical and well-arranged guide for nutrition. It includes basic information about nutrients, nutritional recommendations, healthy diet and possibility to determine your body mass index (BMI).
E-numbers
In the second module, it is possible to find any food additive (E-number) according to its name, E-code or its category.
All used food additives in the certain foodstuff must be stated on the label. In the list of components, the category of food additives is stated followed by their specific name or E-code.
It is possible to use this particular module without internet connection.
Food Safety Dictionary
The last module is the Food Safety Dictionary. It includes more than 800 terms related to food safety, food science, nutrition etc. For the use of the Food Safety Dictionary, the internet connection is needed.
Free download via this link: https://bezpecnostpotravin.cz/kategorie/aplikace-vis-co-jis-do-mobilnich-telefonu-(android-ios).aspx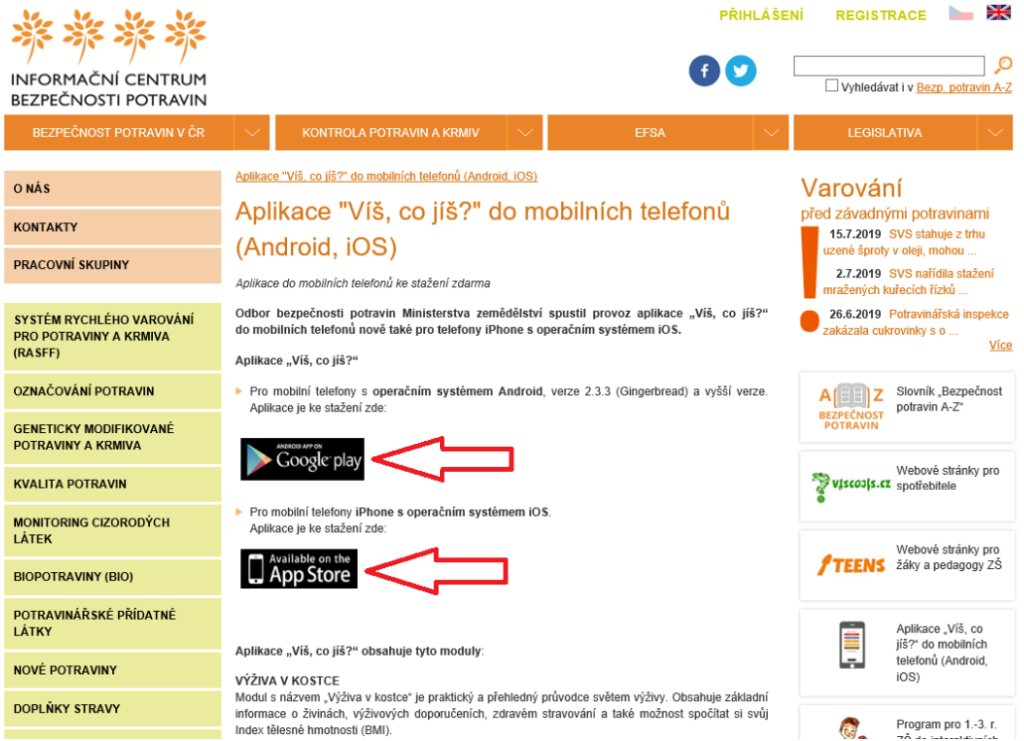 Author: Food Safety Information Center, Ministry of Agriculture of the Czech Republic