The exhibition Země živitelka 2019 – "Den zdraví"
Published: 29 August 2019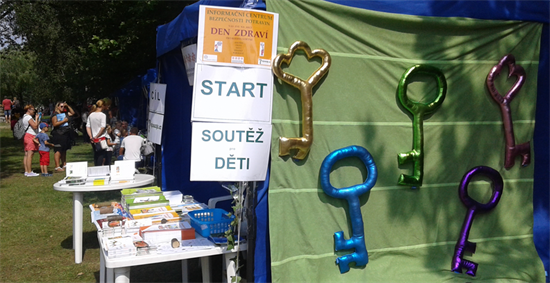 The Food Safety Department of the Ministry of Agriculture of the Czech Republic organized special event called "Den zdraví" within the exhibition Země živitelka 2019 in České Budějovice.
Throughout this day, children could join several activities:
1. "Pitný režim" – Activities related to drinking regime. How much liquids do I needed per one day? Which drinks are healthy or unhealthy?
2. "Co patří do lednice?" – Activities focused on proper foods storage. Foods that should/should not be kept in the refrigerator/freezer?
3. "Trávení" – Activities aimed at human digestion.
4. "Víš, co jíš a neseš?" – Activities which demonstrates overweight or even obesity. Children can try how does it feel to carry unnecessary kilograms of body fat.
In the end of these games and activities, children received gifts, such as coloring books, memory games and magnetic bookmarks.
Furthermore, the artistic duo called Vanda and Standa prepared an entertaining musical performance entitled "Přijede k nám návštěva". All little participators including their parents were satisfied. They gained beneficial knowledge about healthy diet, importance of sport and movement, proper hygiene and handling with foodstuff. Last, but not least, the rest of the visitors appreciated educational materials and publications.
Information (promo) tent of Food Safety Information Center of the Ministry of Agriculture was opened during the whole day. Information materials and publications related to nutrition, health and food safety were available for all visitors.
Author: Food Safety Information Center, Ministry of Agriculture of the Czech Republic